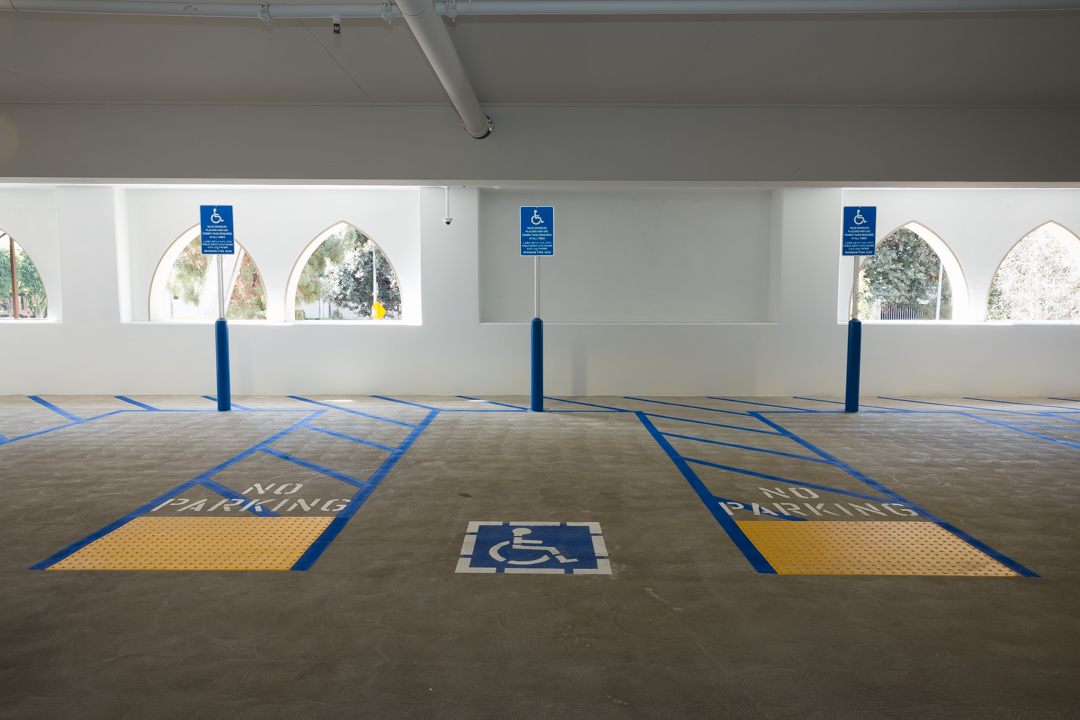 The Americans with Disabilities Act of 1990 ensures equal opportunity for US citizens suffering from any form of disability by prohibiting discrimination and promoting accessibility. Nearly 57 million Americans live with a disability, over half of whom cannot get around without the assistance of a wheelchair, cane, crutches, or walker.
The ADA of 1990 and the 2010 updated version makes public and commercial businesses responsible for designing their property to accommodate the needs and limitations of people suffering with disabilities. Public facilities are different than government-entities and are defined as any business open to the general public, such as hotels, restaurants, theaters, convention centers, malls, museums, and banks.
The Act deems any "architectural barriers" as a form of discrimination as they bar disabled citizens from enjoying the same "goods, services, facilities, privileges, advantages, or accommodations" as their nondisabled counterparts. Barriers may include narrow parking spaces, lack of ramps, long distances to entrances, or unsafe or damaged travelling paths.
Are some businesses exempt from the 2010 ADA standards?
Facilities undergoing new construction or alterations must comply with the 2010 ADA standards. Preexisting properties, on the other hand, may be exempt from ADA regulations if alterations to existing elements would be too great a financial burden or too difficult to remove. However, if removal is considered "readily achievable", even older properties must comply.
What are the ADA specifications regarding parking lots and parking garages?
The Department of Justice (DOJ) amended the 1990 Act in 2010 to reflect lessons learned in promoting accessibility. Current ADA accessible parking area standards include:
2 percent of total parking must be handicapped accessible.
1 in 6 (up from the original 1 in 8) accessible parking spaces must be van accessible. For example, if a business has 1,000 spaces, parking areas must have 20 handicapped spaces, 4 of which need to be van accessible.
Handicapped signs must be posted at a height of 5 feet and displayed at the front of the parking space.
Van accessible spaces must be 11 feet wide unless the access aisle is 8 feet wide. Then spaces may be 8 feet wide.
All other accessible spaces must be at least 8 feet wide.
Access aisles, or the striped areas next to spaces, must be at least 5 feet wide and as long as the adjacent parking space.
Accessible routes, or travelling paths, including ramps and walkways, must be firm, slip-resistant, and secure.
Ramps must be built along access routes if surface level changes are greater than half an inch.
Ramps must have no higher than a 5-degree incline.
Parking garages must provide at least a 98-inch vertical clearance for vehicles with handicapped passengers.
Can individuals sue businesses who do not comply with ADA regulations?
Yes. The Americans with Disabilities Act provides the handicapped with legal recourse when their access needs are not met. While there are many customers who file claims against businesses in hopes of encouraging positive changes to accessibility, there are many individuals who, unfortunately, instigate frivolous lawsuits (and win).
To keep disabled patrons safe and avoid trivial claims, business owners should comply with all applicable ADA Accessible Design standards.
To update or maintain your parking facilities for the handicapped, contact Curcio Enterprises. We are your one stop shop for all your parking facility needs, from general maintenance to parking lot striping and parking lot paving per ADA specifications.